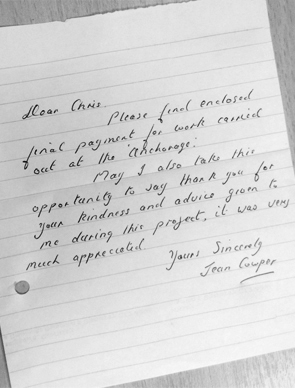 TESTIMONIALS
We want to thank you for all your help with the conversion of our Victorian Villa into two contemporary homes for our daughters and their families. In addition you rescued us in our hour of need from a sticky situation with a previous builder with our new home.Everyone has now moved in and we look forward to a harmonious future!!!
Sohier Villa – Rosie & Dave Bradshaw
We were delighted to have Chris to redesign our home and project-manage the work. The result has been the transformation of a rather dark and cramped budget-build 1950's bungalow into a gracious home for modern living. Chris's ability to 'think outside the box' has added space, light, comfort and convenience. His ability to make the most of the space available within the confines of a given budget is remarkable. Having Chris to project-manage the development was a real bonus. The benefit of having someone of his experience has paid dividends. We are thrilled with the result. Visitors keep on saying 'what a wonderful home you have!' We think so too!
John Luff
"We are delighted that we have 'mission accomplished'! Well done and thank you for doing such a great job. We are thrilled with our home and your design was just perfect for us. My girlfriends are most envious!"
Peter and Ali Tagart
"May I take this opportunity to say thank you for your kindness and advice given to me during this project, it was very much appreciated."
Jean Cowper
"We were delighted with the renovations that Chris project managed at the Castel Rectory. This was a complex project, involving the coordination of a number of different trades and craftsmen. Added to that was the fact that we were overseas for the whole time the work was being carried out. The work was completed on budget and the Rectory was ready for us to move in when we relocated from Bermuda. We really are pleased with our new home."
Gill and Stephen Bailey